Let's start with, if you haven't watched The Peanut Butter Falcon, you should do that now. Shia LaBeouf starred, alongside Zack Gottsagen, in this remarkable making of a coming of age story about a young man with Down syndrome. I would say a more profound scene is regarding the word retarded. Shia makes a point to a caretaker that treating an adult with a disability as if they are retarded is just as bad as calling them such. It was a powerful moment where the caretaker, who truly believes she is doing things in his best interest, is forced to pause and examine her treatment. If you take the time to watch the film, you will see how beautifully Zack and Shia play off one another and the natural ease between the pair.
The title today is a recurrent line throughout the film with significant meaning. In today's it reflects perfectly in this theme. We are starting to see more exposure for individuals with developmental and intellectual disabilities in pop culture or media. We've seen this as a movement towards acceptance and inclusion in our society. However is this the case or do we still have more work to do?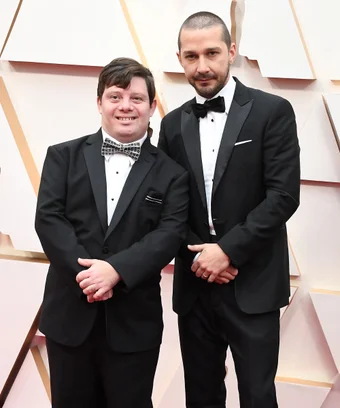 For the 2020 Oscars, Shia LaBeouf was invited not only to attend, but to present an award. His co-star Zack Gottsagen was not. Hence the title and relation to the film, Zack did not receive an invitation to the party. The script for the film, developed by Tyler Nilson and Michael Schwartz, was inspired by Zack's real-life aspirations. The co-directors met Zack while he was attending a summer camp for individuals with disabilities, at that time he shared with them his goal of making it in Hollywood. Zack grew up inspired by Grease and Hairspray and had a gift as a performer. The Peanut Butter Falcon is their take on Zack's goal except in the film he wants to be the next big thing in wrestling. The film was pitched multiple times, shot down each time when it was revealed that the star would be a man with Down syndrome. When it was finally picked up, it was given low budget and low expectations. When Shia received the pitch, he watched and re-watched. He stated taking this role didn't feel safe, "it felt like lighting yourself on fire".
Despite being a star in the film and the inspiration behind it all, Zack was not invited to attend the red carpet event of the 2020 Oscars.
This next piece shows what true character looks like. Shia, having received a plus-one for the Oscars, invited none other than Zack. This was Zack's first star-filled event and he was overjoyed. Further, Shia allowed Zack to present the Oscar reciting the classic line "and the Oscar goes to…". Shia could've attended this event as scheduled and not thought twice about it, as many would have. However he acknowledged the reason behind the film and the distaste it was to not have Zack a part of such a large evening of notoriety for the film. This was a moment larger than that shared between the two, Zack in that moment became the first individual with Down syndrome to present an award at the Oscars.
Shia has spoken openly about his relationship with Zack. While we can see from this incident our society is not where it's perceived to be regarding inclusion, individuals like Shia are helping us continue to progress. Shia reports the first time he met Zack he was skittish and overly talkative, he was nervous. Eventually in silence, they held hands; Shia states "something about holding them calmed all my fear". The pairs depiction of this meeting are vastly different, Shia a renowned actor meeting someone he didn't quite understand and Zack meeting an idol and taking on a journey into Hollywood – something he'd had a lifetime of being told he would never achieve. Shia addressed his history with Zack and his family, identifying that he wanted to spend time with Zack and build a relationship that would be honest on-screen. He knew that googling his name brought up a dark history however he identified that this is not definitive of who he is. The pair developed an honest bond, spending time together, enjoying their favorite things and scolding one another over vices – Zack's being ice cream and Shia's being alcohol. Shia was arrested while intoxicated in public during filming, he reports feelings of shame and frustration. Zack sat across from Shia and stated "don't blow this for me" and both men cried together. Zack was fearful for Shia and his wellbeing, for his friend. Shia made a promise to Zack that for the remainder of filming, he would not drink. Two years later, he remains sober. Shia has remained in a close friendship with Zack. Citing that Zack is a motivator in Shia's ongoing recovery.
While there are moments where it is perceived that inclusivity is becoming normalized, there are details that show us otherwise. Without the facts, it would appear that this was a significant night of inclusion at the Oscars. However these facts reveal that we have much work to do towards inclusion and equality even when so apparently deserved. However, when we feel moments of doubt in our society and the direction we're moving we must take pause. We must shrink back down as with so many things in life and we must soak in the moments. Shia and Zack, their relationship, that's what will promote change. This is a natural bond, not something for show or prize, it takes place behind the scenes and it is what propels us forward.